First Island – Last Mountain :
Solo Exhibition in Ohara Museum of Art
(6. 9. – 27. 11. 2016)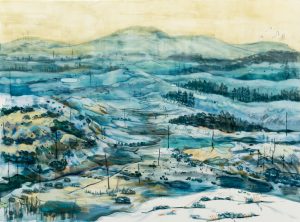 I am currently having a solo exhibition at the Ohara Museum of Art in Kurashiki, Japan.
The show is featuring 16 of my newest paintings and an installation at the ground floor of the museum.
In the annex of the museum there are 2 paintings on display that received the prize of VOCA /The Vision of Contemporary Art in 2012.
Welcome!
Museum Website

大原美術館・倉敷ー柏原由佳個展「最初の島ー再後の山」
2016年9月6日〜11月27日
入場料 一般1,300円、大学生800円、高中小生500円
月曜休館
美術館での個展は初めてとなります。
関西方面にお出かけになる方は、是非ご高覧ください!